Art And Culture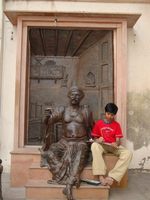 Gujarati literary culture
Let's have a bird's eye view of the historical facts about Gujarati literary culture. In the time of Muhammad Begda, Lahuraj of Amadupura wrote a book titled 'Vimal Prabhandh' and Saint Dadu Dayal wrote a book titled 'Sunder Vilas' in the time of Akbar. Vallabh Bhatt (1680-1780)composed Garba, Garbi and Aarti. The mediaeval Gujarati literature was enriched by Akho and Shamal. Very recently, a full size bronze image of Akho is placed near his residence in Khadia.
Poet Dalpatram (1820-1898) worked as the editor of 'Buddhiprakash' the publication of which still exists. A full size bronze image in sitting posture is placed near his residence at Lambeshwar Pol, Relief road.
The highest award for literary creation 'Gyanpeeth' is bagged by three literary artists of Ahmedabad Umashankar Joshi (1911-1988), Pannalal Patel (1912-1989) and Rajendra Shah (1913-2010). The Central Government has honoured Kumarpal Desai and Bholabhai Patel with 'Padmashree' award.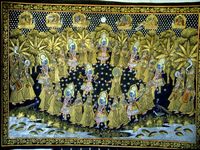 Painting
The mural painting on the main entrance of Ahmedabad railway station created by Shiv Pandya and Shanti Shah catches anyone's attention. We can watch Jain Pothi paintings in the museum of Lalbhai Dalpatbhai Institute and B.J.Vidyabhavan. The best specimens of 'Pichhwai' of Pushti sect of Vaishnavism are found in Sarabhai Foundation. During Mughal period, an artist of Ahmedabad, Abul Hassan Vadifzana had drawn the picture of Jahangir' s coronation on the title page of his autobiography 'Jahangirnama'. Shri Sahajanand Swami had patronized Swaminarayan painting style and encouraged 'Chhap Chitra Puja' system. The first painter of this tradition, Shri Narayanbhai Suthar prepared a profile painting of Sahajanand Swami as Shri Hari.
The advent of painting in Ahmedabad
Ravishankar Raval made Ahmedabad his field of work and he really worked like 'Kalaguru'. Others among the well-known painters are - Chhaganlal Jadav, Kanubhai Desai, Rasiklal Parikh and Shantilal Shah.
Sheth C.N.Kala Maha-Vidyalay started in the year 1951 and Rasiklal Parikh was its first principal. Many senior artists contributed to the field substantially and earned fame. Many contemporary artists came forward and developed different styles. When Lalitkala Academy was established in Gujarat, the painters and painting were encouraged greatly. So, many artists got awards of honour .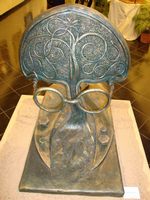 Sculpture
The Indian sculpture has emerged and developed from the artist's spiritual realization and thinking. The Swaminarayan temples, Hathisingh's temples and other temples are the best places depicting that sculpture.
The world famous sculptor, Kantibhai Patel, who had prepared the sculpture of Gandhiji placed at Income Tax cross roads at the end of Gandhi bridge, has his studio in Ahmedabad. The images of Sardar Vallabhbhai Patel and Induchacha prepared by him are also placed in the public places in Ahmedabad.The sculptor, who prepared the eighteen and a half feet tall image of Queen Laxmibai is Jasuben Shilpi of Ahmedabad. Ratilal Kansodaria is contributing a lot in the field of modern sculpture. The images of Akho and poet Dalpatram prepared by him are noteworthy.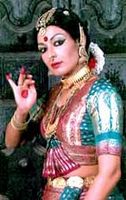 Dance
The folk dance of Gujarat like Garba, Garbi, Raas, Rasado, Hudo and Tippani as well as the Adivasi folk dances play major part during religious and social festivals.
Mrinalini Sarabhai established 'Darpana Academy for Performing Arts' in 1945. At present, there are many big and small dancing institutes/classes imparting training in dancing. Mrinalini Sarabhai has been awarded 'Padma Bhusan' and Kumudini Lakhia and Mallika Sarabhai have been awarded 'Padmashri' for their contribution in the field of classical dance. Joravarsinh Jadav is active in the work of preserving our cultural heritage of "folk dances".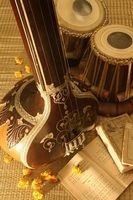 Music
Bhakti sangeet (singing of devotional songs of various sects) and folk music have contributed very well in the cultural growth of Ahmedabad. In the year 1922, Gujarat Vidyapith started courses for music under Narayan Moreshwar Khare. 'Gandharva Mahavidyalay' and 'Bhartiya Sangeet Mahavidyalay' are very old institutes for teaching music which are functioning even today.
The musical programmes began to be relayed on the radio after the radio-station started functioning in 1949.Avinash Vyas has played a vital role in making the light music popular. The contribution of Kshemu Divetiya, Rasiklal Bhojak, Bhailal Barot, Dilip Dholakia, Rasbihari Desai and Gaurang Vyas is noteworthy in the field.There are several big and small music institutions in the city.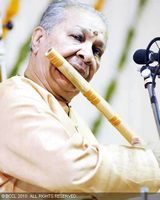 `Saptak` Music Festival - Jan. 1 to 12
The famous institution of classical music 'Saptak School of Music' started in the year 1981, by the famous tabla player, Nandan Mehta, classical singer Rupande Shah and sitarist Manju Mehta. It organizes 'Saptak Music Festival' at Kashiram Hall from January 1st to 12th every year. The singers of classical music from all over the country are invited to participate in it. The tradition of Saptak has made people crazy after music. It is the largest Indian classical cocert in the worlds.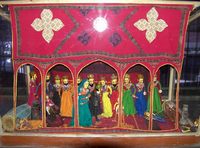 Folk Arts
The folk life of Gujarat is rich with art and culture.In absence of the mediums of entertainments like television, films etc. people used to get entertainment from Fairs, Bhavai, Ramleela, Turis, Bhand, Bahurupees, Puppet Shows, Vadi, Snakecharmers etc. Raas-Garba, Kutchchhi Ghodi, Fencing, Dancing etc. also provide entertainment to the people.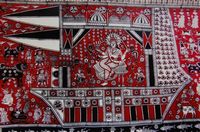 Handicrafts
The handicrafts of Gujarat have earned reputation even in the foreign countries.Some housewives are interested in embroidery. Chakada, Toran and Chandarva prepared with patchwork are still popular.
Some artisans living near Shankar Bhuvan and at Mirzapur are known for their art of textile block painting called 'Mata-ni-Pachhedi'. A roadside market near Law Garden is famous for chania-choli and rural style jewellery. It remains over crowded during Navratri festival. A big settlement of Ganesh idol makers is at Gulbai Tekra.
The use of ethnic and antique things catches our attention. People display bronze lamp stands, utensils, images etc. as decorative pieces in their houses. We find utensils and furniture with fine engravings and carvings. Gurjari Emporium, run by the Government of Gujarat is famous for selling the specimens of handicraft.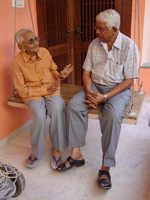 Photography
If we trace the history of photography in Ahmedabad, we learn that Colonel Biggs R.A. of East India Company had photographed the architectural structures of Ahmedabad in 1853, and his album containing 120 photographs was published in 1860.
After that, Shamsuddin Lukmanji started photography in Ahmedabad in 1870. The first city photo studio called Bhavnagari Studio was opened in 1898. A photo studio named 'Kanetkar and Co.' started in 1917. Photographer Janardan Dighe covered Congress Convention of 1921 held in the city through his lens. In 1930, Balwant Bhatt covered Gandhiji's Dandi March with his still camera and Ramniklal Tolat had screened the event in an eight hundred feet long film reel and immortalized the important event of Dandi March.
Pranlal Patel photographed the events of centenary celebrations of Ahmedabad Municipality in 1935 and also of the important events during the 'Quit ndia' movement of 1942. Jagan Mehta also photographed the 'Peace March' led by Gandhiji during communal riots in Noakhali.
French photographer, Henry Cartier Bresson, the founder of the world famous institution of photography called 'Magnum' had photographed Ahmedabad. an 1955, an exhibition of photography entitled as 'A Family Man' was arranged in Ahmedabad in which photographs of Edward Stich were displayed.
Ravishankar Raval started 'Kumar Camera Club' to provide training in photography in 1925 and later on it was converted into 'Niharika Camera Club'. Again in 1981, 'Camera Club of Karnavati' came into existence.
Shinning Stars of Sports
The contribution of Jasu Patel, Dipak Shodhan, Dhiraj Parsana and Parthiv Patel of Ahmedabad is noteworthy in Indian cricket. We cannot forget Geet Sethi as a world champion of Billiard and Snooker and Rupesh Shah as a talented national sportsman. In the field of international chess, Tejas Bakare is a 'Grand Master'. In the field of international hockey, Dipika Murti's achievement as goalkeeper cannot be ignored.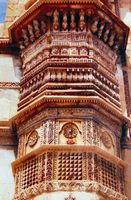 Architecture
Before visiting the well known architectures of Ahmedabad, let us have primary knowledge about architecture. The period of Karnadev Solanki was rich in Hindu and Jain temples. In the beginning of the 15th century, Ahmed Shah established Ahmedabad and started raisirig new architectural structures.
The architectural structures of Ahmedabad are externally Islamic but their foundation lays on Hindu and Jain tradition. As a result, the contemporary architecture appears different from other Islamic architecture because of its artistic design. We also find in it, those things which were usually neglected. Such a mixed architecture is called Indo-Sarasenic architecture.
There are many peculiarities in the architectural structures of mosques.
For getting fresh air and light in the mosques, the central place is raised and a dome is constructed.
Beautiful artistic jalis are observed in many mosques. e.g. Sidi Saiyed mosque.
Attractive engraving in the balconies and recesses of the wall is unique.
The construction of the minarets of mosques and their workmanship are remarkable. The rocking minarets of Ahmedabad are a wonder.
The Interi type architecture is remarkable e.g. Azam-Muaz and Dariyakhan Raja.
The residential structures built during the Mughal period have the arch of the Mughal style. Such an arch is seen in the palace of Azamkhan. With a few alterations, an Amdavadi arch was made. It is narrow and tall. It has the shape of a Pipal Leaf Such an arch is seen in many homes these days. The structures like Motishahi Palace, Azamkhan's Palace and Bhadrakali temple were built during the Mughal period.
In the Maratha period, Gaekwad's Haveli was built. Among the Hindu religious places, the construction of Bhimnath Mahadev temple is worth mentioning.
During the British period, many Shiv temples, Vaishnav Havelis, Swaminarayan temples, Hathisingh's temples and Jain temples of Zaveriwad were built. The special Vastushastra, the science of architecture is taken into consideration while constructing temples. The identification marks, for recognizing the images of Jain Tirthankaras are placed in the middle of the pedestal.
Ahmedabad Municipal Corporation has constructed crematoriums in the areas like Saptarshi, Dudheshwar, behind V.S. Hospital ,and Vadaj. The crematorium built at Thaltej Cross Road on S.G. Highway named 'Antimdham' is beautiful. The image of Lord Shiv placed there is attractive and it catches attention of passers by as well as of the visitors.
The place where the Parsi's dead bodies are laid down is known as 'Dakhma', the tower of silence. It is a tradition of Parsis that the dead body is placed into Dakhma for the vultures to devour them. The construction of Dakhma is done according to the architectural design suggested in Zorastrianism. We find beautiful carving on the stones placed on the protestant christian tombs.
It is advisable to visit the pols of the old walled city to know the architectural design of the residential places of the city. Some constructions are built for public use, for example, school, hospitals, public hall, cinema hall,pond etc.