Freedom Movement in Ahmedabad
The history of struggle for India's independence extends from 1857 to 15th August 1947. The city of Ahmedabad had also participated actively in the freedom movement.
The freedom movement had its impact on the entire nation. Ahmedabad had provided leadership in the movement on many such occasions. Ahmedabad gained special importance because Gandhiji established Harijan Ashram at Sabarmati. Many a times, it appeard as if Ahmedabad was the head quarter of the freedom struggle. Let's learn about the role played by Ahmedabad in the freedom struggle.
1857: The First Freedom Struggle
The first flash of freedom struggle was seen in 1857 in Ahmedabad. In that revolt, some rebellious soldiers were caught and were sentenced to death. Five of them were tied to the mouth of a tank and were bombed. Three were shot dead. Thirteen were hanged.
1876:
Ahmedabad took initiative in the Swadeshi movement. 'Swadeshi Udyog Vardhak Mandal' was established.
1902:
The first convention of congress was held at Hathisingh-ni-Vadi, Ahmedabad.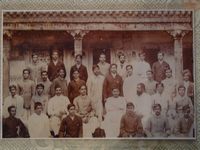 1906:
Maganlal Sharma, a primary school teacher, drew the first imaginary picture of 'Bharatmata' and it became very famous through out the country.
About Sixty Bengali youths came to Ahmedabad. They taught to youngsters of Ahmedabad to sing 'Vande Mataram' with the help of Chunilal Bhatt in Dhobi-ni-Pol of Khadia.
1909:
A bomb was thrown at Governor General Lord and Lady Minto outside Raipur Gate. They were saved, but a sweeper died in the bomb blast.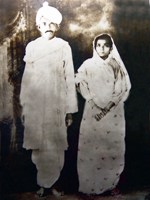 1915: Arrival of Gandhiji in Ahmedabad
Gandhiji started 'Satyagrah' in South Africa. He came to India in 1915 after becoming a mature Satyagrahi India welcomed Gandhiji respectfully.
He started his Ashram in Barrister Jivanlal Desai's bungalow at kocharab on May 25,1915 and named it as Satyagrah Ashram. In the beginning, 20 Ashramites joined the Ashram, and the activities like Harijan welfare, spinning, literacy and carpentry started. The 'Gandhi-Era' began with the establishment of Satyagrah Ashram.
1916: Lokmanya Tilak
Lokmanya Balgangadhar Tilak, who gave the slogan "Swaraj is my birth right" during the freedom movement, came to Ahmedabad on 22nd October 1916, to attend the provincial convention of Bombay Province, held under the presidentship of Mohammed Ali Jinnah.
The idol of Lokmanya Tilak was installed ceremoniously in 1929 by Gandhiji.
1917: Establishment of Sabarmati Ashram
When the epidemic plague spread in Kocharab area, Gandhiji changed the place of his "Ashram"from Kocharab to Sabarmati.It is popularly known as Sabarmati Ashram.Later, it became the major centre of the struggle for independence.
1918:
Annie Besant, the founder of Home Rule League movement, came to Ahmedabad on 12th March.
1919:
Indulal Yagnik started publishing magazine called "Navajivan and Truth". Gandhiji took over the same from him and started two publications, namely "Navajivan" in Gujarati and 'Young India' in English after establishing a printing press called Navajivan Press.
Gandhiji was arrested on 9th April 1919, due to agitation against the Rowlatt Act.
1920:
Gandhiji started Non-Co-operation movement. A resolution of National education was passed in Gujarat province at political convention held in Ahmedabad. As a result, Gujarat Vidyapith came into existence in 1920.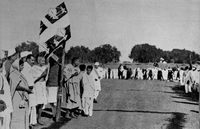 1921:
The 36th convention of the congress was, held at the spot where Sheth Vadilal Sarabhai Hospital is now situated.The Chairman of its reception committee was Sardar Vallabhbhai Patel and its Secretary, was Ganesh Vasudev Mavlankar.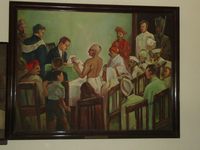 1922:
Gandhiji and Shankarlal banker were accused as traitors and were arrest on 10th March for writing articles and publishing them in `Young India`. the proceedings of the court against them took place on 18th March. Justice R.S. Broomfield sentenced Gandhiji to six years imprisonment.
At present, the room of the circuit house in which these court proceedings took place, is preserved along with that picture as a memory.
Good Luck of An Artist
Ravishanker Raval was fortunate to withness the historical proceedings of the court against Gandhiji and Shankarlal Banker in 1922. Ravibhai, who was seated in a corner drew in his sketchbook, the entire scene. This is the only picture, which stands as an evidence to this historical event.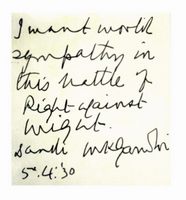 1930:
The executive council of congress gave full authority to Gandhiji to carry on Satyagrah for independence. The Government levied tax on salt by exhibiting its monopoly. Under the leadership of Gandhiji, an agitation was launched by people against this act. Gandhiji declared that he would be the first to violate the law and he led Dandi March for that purpose.
Gandhiji took an epic vow, "I will die a miserable death but will not return to the Ashram without obtaining 'Swaraj'. On 11th March 1930, Gandhiji gave an impressive spiritual lecture to an overcrowded audience, and advised them to fight fearlessly. He informed them that the struggle for independence should continue with patience and courage until achieving complete independence.
On 12th March, Gandhiji proceeded on his Dandi March with 78 companions at 6.30 am from the Ashram. This Dandi March created awareness about the struggle for independence in each part of the country.
This march of 385 km reached Dandi on 5th April. Gandhiji gave a message to the World: "I want world sympathy in this battle of right against might. Dandi, M.K. Gandhi, 5-4-30",
The next day i.e. on 6th April, he took bath in the ocean and broke the salt law by taking salt in his hand at 6:30 a.m.
1940:
The executive council of the congress entrusted the responsibility of conducting Satyagrah on individual level to Gandhiji. The first Satyagrah from Gujarat was carried out under the leadership of Sardar Vallabhbhai Patel.
1942:
'Quit India' Movement had great significance in the struggle for independence. Gandhiji gave slogans 'Quit India' and 'Do or Die' The congress working committee met in Mumbai on 7th & 8th August 1942. There, Gandhiji declared, "We are going to give ultimatum to the British today that they must quit India. We do not want foreign rule in our country. I second this move of congress heartily." The effective speech of Bapu brought new enthusiasm and spirit. The meeting continued upto late night.
The next day i.e. on 9th August, Gandhiji, Sardar Vallabhbhai Patel, Jawaharlal Nehru, Maulana Abul Kalam Azad and other leaders were arrested in the early morning. Against these arrests, people observed strikes in the whole country. The processions were led through the streets and demonstrations were held country-wide. Schools and colleges in Ahmedabad were closed.
The youngsters of Ahmedabad took up the challenge of making the movement a success under the leadership of Jayanti Dalal, Dr. Jayanti Thakor, Nirubhai Desai, Ramniklal Shah and Manmathrai Mehta.
An Independent Government was established in Ahmedabad and the work of governing it was entrusted to the Shahersuba, Dr. Jayanti Thakor under the name of 'Jayanand'.
On 9th August, Umakant Kadia became martyr in the police firing near Khadia Post Office. Vinod Kinariwala became martyr in Gujarat College on 10th August as a result of police firing on the students. 'Rastriya Vidyarthi Sangram Samiti' was formed under the leaership of Ramniklal Shah. About 80,000 students made a record by going on strike for 250 days.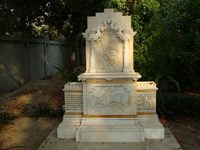 1947: Freedom At Midnight
A memorial was erected on the campus of Gujarat College to commemorate the martyrdom of Vinod Kinariwala. The pillar bears three symbolic figures. Jay Prakash Narayan inaugurated this memorial. In the midnight of 14th August 1947, exactly at twelve i.e. on 15th August, the country became independent. One worth noting point here is that social veteran leader, Jay Prakash Narayan observed Ahmedabad as the city that gave the highest number of sacrifice in the struggle for Indian Independence.