Around Ahmedabad
Ahmedabad is a gateway to Gujarat. There are many worth seeing places around Ahmedabad fro enjoying weekends.

Lothal
80km
Lothal is a well known Sindhu-Saraswati civilization site which is exhaustively excavated. It is noted for its dockyard, which used to permit ships to go to the open sea carrying merchandise from the diferent parts of world to the Gulf and Mesopotamia. Some protohistoric anchor stones and remains of a spacious storehouse have been found here. the port city of Lothal provides valuable inputs and ancient system of maritime trade and town planning.
Open 10.00am - 17.00 pm,
Closed on Friday, Entry fees: Rs. 2/-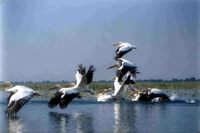 Nalsarovar
65km
Nalsarovar is one of the largest waterbird sancturies in the country which covers 121 sq. km with 360 small islands. It is one of the largest shallow lake of the country, where water level does not exceed 1.8 mts. The best season to visit is December to February. It is good to reach here early morning to catch the best moments along with binoculars and other accessories. Pelicans, ducks, geese, rails, coots and egrets are some of the birds found in the sanctuary. You may hire a punt to get view of birds nesting in the reeds. You may enjoy food at Toran Restaurant or local food like rotala, vegetables, fresh butter and butter-milk.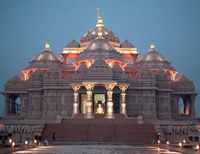 Gandhinagar
28km
Gandhinagar is capital of Gujarat, named after Mahatma Gandhiji. It is a well planned city divided into 30 sectors, designed by a French architech - Le Corbusier. The Sachivalay shifted in 1970 to Gandhinagar. The structure of Sachivalay is excellent and the large sitting statues of Mahatma Gandhiji are worth seeing. It is known as garden city for its greenery. Akshardham temple is the main tourist attraction. It is a modern cultured temple built with pink stones, similar to 'Satyam Shivam Sundaram' Indroda Park which is popular for its life size replica of Dianosaur. Children enjoy local gardens and various rides installed here.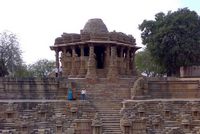 Modhera
110km
Modhera is a small village, known for one of the best Sun temples in India. It is an example of the exquisite architechtural style of the Solanki dynasty. It was built by King Bhima-I in 1026 CE. It extends upto 250 feet on east-west axis. The temple is such situated that the rays of the rising sun fall into the innermost sanctum.
Every year, a dance festival by Gujarat Government is held in January in the honour of the Sun God. Modhera in near to Mehsana, approx 35km.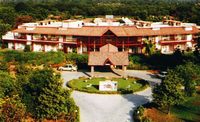 Shanku's Water World
54km
Shanku's water world is the first waterpark build in India. It provides relief in the hot summer with joy without much deliberation. It has thrilling water-rides both for children and adults for fun and adventure. It has a well established complex (building) with lake, garden, sport complex, heath club, resort and natural health center.
Ahmedabad-Mehsana Highway,
Mehsana -384002.
Ph.: 26568319, 26563639
Time: 10.00am - 4.00pm, Entry: Rs. 150/-
E-mail: [email protected]
Website: www.woterworldresort.com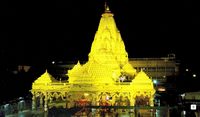 Ambaji
200km
Ambaji, the biggest shaktipith - Tirth of Gujarat is situated on the Aravali Hill, northern border of Gujarat. this is temple of Goddess Ambaji without the image, but it reflects the illusion of Ambaji. the original Sthanak of goddess is known of 'Gabbar' on the hill near by. This temple has a prime important dring 'Navratri Festival' It is completely renovated temple.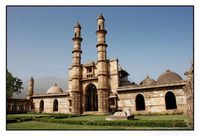 Champaner-Pavagadh
150km
Champaner, a world heritage site is situated at the foot of Pavagadh. It is believed that it was built in the memory of Governor Champa when Vanraj was king of Patan. Muhammad Begada, Sultan of Ahmedabad, succeeded in capturing it during the time of Patai raval. He liked the climate to the extent that he transferred his capital to Champaner. He erected 4000 ft. logn and 30 ft. high fort wall with exquisitely carved gates. Among the other oustanding monuments of Champaner are the Jami Masjid and the Nagina Mosque.
Pavagadh Hills is very famous for its Kalika template. Ropeway facility is available to reach there. Manchi is a place on the hill for stay and other facilities.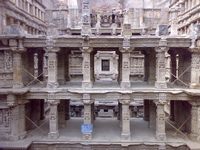 Patan - Ranki Vav
125km
Ranki vav (Queen's stepwell) of Patan was built in 1063 by Rani Udaymati of Solanki dynasty in the memory of her husband Bhimdeva. It was excavated in the late 1980 by the archeological survey of India. It has seven gallaries and is laid out in east-west direction. The stepped corridors and some of the mandaps are very beautiful. The gallaries contain exquisite sculpture of Gods and Godesses.
Patan has a complete historical background and was found in 745 AD by Vanraj Chavada. The last ruler was Sultan Ahmed Shah who shifted the capital to Ahmedabad. Patan is famous for Patola Sarees.
Visiting hours: 8.00am - 6.00pm,
Entry: Rs.5/-, NRI - Rs.20/-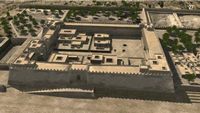 Dholavira
550km
Dholavira is a massive site belongs to 5000 year old Mohen-jo-daro, Harrappa civilization. It showcases the hydraulic engineering skills of the Harappans, who converted the city walls into veritable reservoirs to preserve every drop of water. It is said that it is one of the oldest Indus civilization in the world. Dholavira is in Kachchh District.You can take trip to Bhuj also.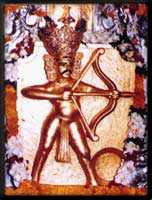 Mahudi
62km
Vir Gantakarna Mahavir Jain temple of Mahudi is very popular. Ghantakarna means one with large bellshaped ears. The deity is shown with a bow and arrow. Devotees believe that he will protect them from illness and evil forces. Devotees offer 'Sukhadi' to the deity. Amardham is a pilgrim spot on the way to Mahudi.