Museums
Gujarat stands second in India in respect of the number of museums. There are 57 museums in Gujarat, out of which 22 are in Ahmedabad. Thus, Ahmedabad is leading in the matter of museums. Its museums are unique and they cover a variety of subjects. Let's have a glance at the museums of Ahmedabad.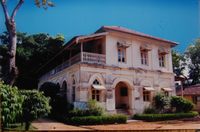 Satyagrah Ashram - Kocharab 1915
After returning from South Africa , Gandhiji established his first Ashram in India at Kochrab, Ahmedabad in 1915. He named the Ashram as 'Satyagrah Ashram'. Gandhiji stayed in this Ashram for one and a half years before Satyagrah Ashram shifted to Sabarmati Ashram. Bombay State purchased the land around it and Satyagrah Ashram was converted to museum. This ashram is managed by Gujarat Vidyapith.
Satyatrah Ashram
Nr. Paldi Char Rasta, Ahmedabad - 7, Ph : 26578358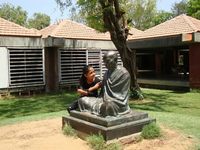 Gandhi Memorial Museum 1917
Mahatma Gandhiji, the father of the Nation, was such a great personality of the contemporary age that it is difficult to imagine that such a man had ever walked on this earth. He established Ashram on the bank of Sabarmati on 17th June, 1917. Gandhiji stayed there for years but he did not return to the Ashram after Dandi March. So, the Harijan welfare activities got started there. After the demise of Gandhiji, a scheme called "Gandhi Smarak Nidhi" started in the country to establish his memorial. As a part of the scheme, 'Sabarmati Ashram Preservation and Memorial Trust' came into existence. Thus, a museum opened up in 'Hridaykunj'.
'Hridaykunj' is an old building of Gandhi Memorial Museum, where Gandhiji lived from 1918 to 1930. Kakasaheb Kalelkar named his residence as 'Hridaykunj'. There are five rooms in this building. This residence of Gandhiji has remained attraction for those who wish to know about Gandhiji and his activities. The objects of Gandhiji's personal use are displayed in Hridaykunj. As we enter Hridaykunj, we are tempted to bow down to Gandhiji because of the holy atmosphere here. We feel as if, we are at pilgrimage. Another important place-is the Prayer-place (Prarthna Bhumi), where Gandhiji and other ashramites used to offer prayers regularly. Beside it, an image of Gandhiji in the praying posture is placed on the occasion of his 125th Birth Centenary.
New Museum Building
A new museum was built in 1963 designed by Charles Correa. In this museum, 34,177 letters written by Gandhiji are preserved. besides these, there is a collection of 8718 pages of gandhiji's manuscripts, 6937 photographs, 210 films, 124 micro film rolls, 509 audio cassettes, 121 records, 63 video cassettes and 155 awards. There is collection of excellent oil paintings of Hiralal Khatri. In the picture gallery "My Life is My Message", the photographs and paintings, showing Gandhiji's life from birth to death are displayed with time sequence. The exhibition of Gandhiji-smruti stamps is also arranged here. Attenborought's film 'Gandhi' projected Gandhiji in the right Perspective before the film went public. through this film, Attenborough made people realize that the great man Gandhi was born in India and his field work was Ahmedabad, and his official residence was this Ashram.
Gandhi Memorial Museum
Sabarmati Ashram, Ashram Road, Ahmedabad - 27.
Ph.: (079) 27557277. Fax: 27560569
Timings: 8.30am to 6.30pm
Open on all days. Photography allowed. Free Entry.
Website: gandhiashramsabarmati.org
Sheth B.J. Vidyabhavan Museum 1946
This museum came into existence with the establishment of Sheth Bholabhai Jesignbhai Study and Research Vidyabhavan. The museum has a collection of about eleven thousand Sanskrit, Prakrit, Gujarati, Arabic and Persian manuscripts. There are about fifty picture-manuscripts.
It has also a collection of about 9000 ancient specimens of coins, paintings, dicuments, copper plates with inscription, Bhojpatra, 300 stone and metal sculptures as wll as utensils and other things.The wooden replicas of the arches of Kapadwanj and Siddhpur placed in the museum are remarkable.
Sheth B.J. Vidyabhavan Museum
H.K.College Campus, Ashram Road, Ahmedabad.
Closed on Sunday & Public Holidays.
ph.: (079)26588862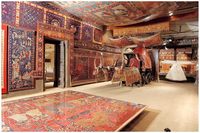 Calico Museum of Texttiles 1949
According to a suggestion by Dr. Anandkumar Swami, Calico Mills started collecting the specimens of handwoven as well as machine made clothes. Thus, "Calico Museum of Textiles" came into existence in 1949 in the compound of Calico Mills. It was inaugurated by Shri Jawaharlal Nehru.
With the passage of time, this museum was shifted to a spacious 'Retreat House' at Shahibaug. The museum was re-arranged in 1983, as per the advice of the experts of Victoria and Albert Museum, London and Aburg Foundation, Switzerland.
The specimens of historical textile of 17th and 18th century are exhibited in nine different halls. These specimens include wall panel, bed sheets, curtains, shirts with golden embroidery, royal pendals, carpets, tents, havem Pardah, belts, Patolas of Patan, window curtain of Dhaka, Kashmiri blankets and shawls, Bandhanis of Gujarat etc. In the religious gallery, specimens of Pushtimarg and Jainism are exhibited. This is the only first rated textile museum in the world.
Calico Museum of Textiles
Retreat, Opp. Shahibaug Underpass, Ahmedabad-4.
Ph.: (079) 2286172, Fax: 22867759
Timings: 10.00 to 12.30 am ; 2.30 to 4.30 pm
Closed on Wednesday and Public Holidays.
No Entry Fee. Photography allowed.
Website :www.calicomuseum.com
Lalbhai Dalpatbhai Museum 1957
L.D. Museum of Indology is famous in India for the specimens showing Indian art and culture. Muni Shri Punyavijayji, a scholar of Jain literature made research on PrakritSanskrit manuscripts. A learning centre of Indian culture came into existence in 1957 and the collection by Shri Punyavijayji Maharaj increased to an extent of opening museum in 1984. At present the following galleries are functioning.
Madhuri D. Desai Gallery, where the specimens of Indian Sculpture are preserved.
Muni Shri Punyavijayji Gallery, where ten thousand manuscripts, seven thousand printed books, numerous miniature paintings, picture plates & scrolls, paintings of pilgrimage, copper plates with inscriptions etc. are kept.
P.T.Munsha Coin Collection.
Sindhu and Lothal culture gallery.
Lalbhai Dalpatbhai Museum
Opp. Gujarat University, Ahmedabad-9.
Ph.: (079) 2630 6883
Timings :10.30 am to 1.00 pm, 2.30pm to 5.30 pm
Closed on Monday and Public Holidays. No Entery Fee.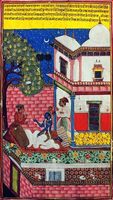 N.C. Mehta Gallery
N.C.Mehta handed over his personal collection of about more than one thousand miniature paintings to Gujarat Museum Society for exhibition. An exhibition of N.C.Mehta Collection was held at Sanskar Kendra in 1963 under the auspices of Gujarat Museum Society with co-operation from L.D. Museum. This collection shifted from Sanskar Kendra to a new building, opposite Gujarat University. This collection includes 585 miniature paintings, 12 jackets of manuscripts and 483 manuscripts in good handwriting.
N.C. Mehta Gallery
Gujarat Museum Society, L.D. Museum
Campus, Opp. Gujarat University, Ahmedabad-9.
Ph.: (079)26037167, 26302463
Timings: 10.30 am to 5.30 pm
Closed on Monday and Public Holidays.No Entry Fee.
Shreyas Museum
This museum is situated in the compound of Shreyas Foundation as a part of their activities.
Museum of Folk Arts
In the folk arts museum, the cultural lifestyle of various communities like Kathi, Rabari, Ahir, Charan, Bharwad, Kanabi, Mer, Koli, Banasali, Rajput, Meman, Miyana etc and the specimens of their utensils and decorative pieces, colourful embriodery,pearl handicraft, woodwork, leather work, different kinds of dresses, metal images etc. are exhibited.
Kalpilna Mangaldas Balayatan
It is a museum with the collection of toys from across the country and abroad, dolls, lifestyles, royal court, images of gods, coins etc. There are two more museums in this campus, namely Kathani: gallery of fairs & festivals and Sangeet Vadyakhand.
Shreyas Museum
ShreyalHill, Ambawadi, Ahmedabad-15.
Ph.: 26601338/78
Timings: 10.00 am to 1.00 Pm
2.00 pm to 5.00 pm, Closed on Monday.
Entry Fee: Rs.lO, Foreigners - Rs.90.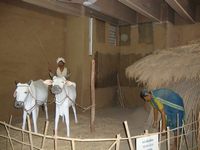 Adivasi Museum 1965
With the opening of Adivasi Research and Training Centre at Vidyapith in 1962, a museum was opened in 1965 to display things related to their lives.
Details about Adivasi life style, clothes and other aspects of their life are displayed in a lively manner in the museum. Their religious symbols and marks, ornaments, musical instruments, household things, instruments of professions, clothes and the toys for children are displayed in different sections.
Adivasi Museum
Gujarat Vidyapith Campus, Ashram Road, Ahmedabad-14.
Ph.: (079)27541392
Sardar Vallabhbhai Patel National Memorial Museum 1978
Sardar Vallabhbhai Patel National Memorial Museum was established to commemorate the birth centenary of Sardar Patel in Shahibaug (Motishahi) Palace.
Sardar Patel was a symbol of hardship and simplicity. The objects he used are preserved in the museum, like hand-spun Khadi shirt, jacket, Dhoti, two aluminium lotas, tin trunk, shoes, tiffin box, spinning wheel, pen, the Bhagwad Geeta etc. Besides these, gifts, citations, books, photographs of his life, pictures, correspondence, paper cutting etc. are also exhibited here.
Sardar Vallabhbhai Patel lived in his residence at Bhadra for eight years. This place is declared as National Memorial House. It is managed by Sardar Patel Memorial Society since October 31, 1992. There is a pictorial exhibition of his life in this building. His personal furniture and bag etc. are preserved on the first floor.
Sardar Vallabhbhai Patel Memorial Museum
Shahibaug Palace, Shahibaug, Ahmedabad-4.
Ph.: (079) 22867027
Closed on Sunday and Public Holidays. No entry fee.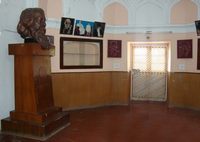 Tagore Smruti
The first I.C.S. officer, Satyendranath Tagore was appointed as a magistrate in the British Governrnent in 1878. He lived in this Shahibaug Palace at that time. His younger brother Ravidranath Tagore stayed with him for six months in this building, When he was seventeen years old. Later, he became famous as a poet. The plot of his well-known work 'Hungry Stones' was conceived in this building. The room, in which he used to read, write and sleep is preserved as "Tagore Smruti" in the building.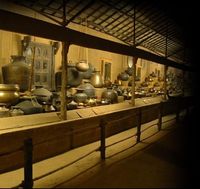 Vechaar-Metal Utensils Museum 1980
A unique museum in Ahmedabad is "Vechaar" museum of utensils at 'Vishala' pastoral restaurant. Vechaar is an abbreviation of Vishala Environmental Centre of Heritage of Art, Architecture and Research. It has personal collection of Surendra Patel, who collected copper, brass and bronze utensils of daily use. The museum is made of straws, mud, dung, bamboos and wood. The utensils and things of daily use are exhibited in this museum for visitors for all the days of the year till late night. We may find 3500 different kinds of utensils, 610 Sudis and 90 Ghartalas. You will be surprised to learn that the entire museum was taken to Russia in 1986.
Vechaar
Vishala, Sarkhej-Vasana Tolnaka, Ahmedabad.
Ph.: (079) 2660 2422
Timings: 3.00 pm to 10.30 pm
Entry Fee : Rs.10/-. Open on all weekdays. Photography allowed.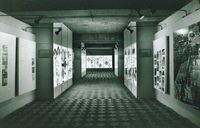 Patang - The Kite Museum 1986
Ahmedabad is famous for Kite Festival in India. Bhanu Shah, a Kite-lover of Ahmedabad gifted his own kites collection to Ahmedabad Municipal Corporation and the corporation provided space in the cellar of Sanskar Kendra for Kite Museum on permanent basis. This is the first museum of its kind in India and second in the world.
Patang Museum
Sanskar Kendra, Paldi, Ahmedabad-7
Ph.:(079) 26578369
Timings: 10:00am to 6:00pm
Closed on Monday. No Entry Fee.
City Museum-Karnavati: Atit-ni-Zankhi 2000
Designed by a French architect Le Corbusier, the City Museum started in Sanskar Kendra of Ahmedabad Municipal Corporation on April 4,2000 under the name of "Karnavati: Atit-ni-Zankhi". This museum exhibits the identity, culture and pride of the city. The City Museum is a unique combination of the ancient and modern values of life.
The museum displays the archeology and history of the city. It also shows us the culture and religion, customs, traditions and festivals, art and craft, literature and architecture. Thus, the museum proves worthy of its name 'A glimpse of Karnavati'.
City Museum
Sanskar Kendra, Paldi, Ahmedabad-7.
Ph.: (079) 26578369
Timings: 10.00am to 6.00 pm
Closed on Monday. No Entry Fee.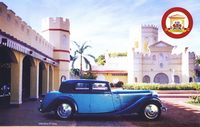 AutoWorld Museum
AutoWorld Museum, the largest and the biggest automobiles collection of India and one of the best in the world, is in Ahmedabad. It has antique vehicle collection of cars, motorcycles, buggies etc. It is developed by Pranlal Bhogilal family having more than 100 finest cars in the world such as Rolls-Royce, Bentleys, Daimlers and many other makes of USA, UK and Europe. AutoWorld has facilities for auditorium, souvenir shop and a station for fun drive in vintage carts etc.
AutoWorld Museum
Dastan Estate, Sardar Patel Ring Road,
Kathwada, Ahmedabad - 382430.
Ph.: 65457488, Fax: 22820649
Timings: 9.00am to 1.00pm, 2.00pm to 9.00pm
Entry: Rs. 50. Contact: Bhailalbhai patel.
Dr. Vikram Sarabhai Space Museum
Dr. Vikram Sarabhai was the father of space programme in India. He believed that techonology should be used to solve the individual as well social problems. In order to give an idea of our space programmes a beautiful 'Space Museum' is established in Ahmedabad under the auspices of Space Application Center.
The space programmes and their uses are shown through active models, like pannels, static display and inter-related multi-media presentation. Besides, life and work of Dr. Vikram Sarabhai (1919 to 1961) are also displayed in the museum.
Dr. Vikram Sarabhai Museum
Satellite Road, Opp. Bhavnirjar, Ahmedabad.
Other Museums
Museum Of Indian Culture,
Gujarat Vidyapith, Ashram Road, Ahmedabad.
The Late Padmashri David Natural History Museum,
The Zoo Campus, Kankaria, Ahmedabad.
Story of life - Museum, Zoology-Dept.,
Gujarat University, Navrangpura, Ahmedabad-9.
Samrat Samprati Museum,
Shri Mahavir Jain Aradhana Kendra, Koba gandhinagar Road, Ahmedabad.
Chancellor Mararji Desai Gallery,
Gujarat Vidyapith, Ashram Road, Ahmedabad.
Doc's Locks Dr.Hiren Shah's Old Locks Collection,
Satyagrah Chhavani Bungalow-280, Lane-15, Satellite Road, Ahmedabad-15.